Rules of using Florovit AGRO products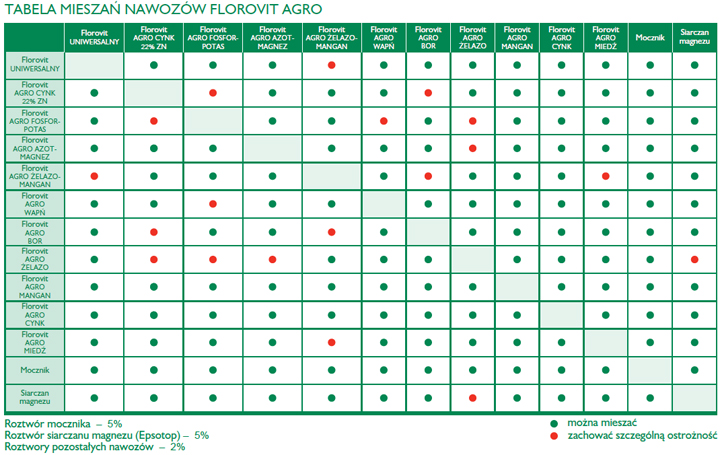 RULES OF USING Florovit AGRO products
The tests carried out by the Crop Protection Institute in Poznań confirm the possibility of mixing universal Florovit AGRO with Crop Protection Chemicals (SOR).
UNIVERSAL FLOROVIT AGRO CAM BE MIXED WITH FOLLOWING CROP PROTECTION CHEMICALS:
HERBICYDY:




Aminopielik D 450 SL
Aminopielik Standard 600 SL
Attribut 70 SG
Aurora 40 WG
Basagran 480 SL
Chwastox D 179 SL
Chwastox Trio 540 SL
Chwastox 500 SL
Granstar 75 WG
Huzar 05 WG
Lintur 70 WG
Mocarz 75 WG
Mustang 306 SE
Sekator 125 OD

REGULATORY WZROSTU:




Antywylegacz Płynny 675 SL

AKARYCYDY:




Apollo 500 SC
Magus 200 SC
Nissorun 050EC
Omite 30 WP

INSECTICIDES:


Actara 25 WG
Bulldock 025 EC
Bi 58 Nowy 400 EC
Calypso 480 SC
Decis 2,5 EC
Envidor 240 SC
Fastac 100 EC
Karate Zeon 050 CS
Mospilan 20 SP
Pirimor 500 WG
Proteus 110 OD
Steward 30 WG
Sumi-alpha 050 EC
Trebon 30 EC
Vertimec 018 EC

FUNGICIDES:


Acrobat MZ 69 WG
Altima 500 SC
Amistar 250 SC
Antracol 70 WG
Bellis 38 WG
Capalo 337,5 SE
Capitan 400 EC
Captan 50 WP
Champion 50 WP
Chorus 50 WG
Delan 700 WG
Difo 250 EC
Discus 500 WG
Duett Ultra 497 SC
Horizon 250 EW
Miedzian 50 WP
Olympus 480 SC
Penncozeb 80 WP
Rovral Aguaflo 500 SC
Siarkol Extra 80 WP
Signum 33 WG
Switch 62,5 WG
Tilt Turbo 575 EC


A SPECIAL CARE SHOULD BE APPLIED WHEN MIXING UNIVERSAL FLOROVIT AGRO WITH FOLLOWING PRODUCTS:
| | |
| --- | --- |
| INSECTICIDES: | FUNGICIDES: |


IT IS RECOMMENDED TO:
prepare very carefully the solution
mix in the course of carrying out the treatment
use the solution immediately after its preparation
adapt the general recommendations applicable to the case of combined application of agro-chemicals.
Universal Florovit AGRO can be used in three-component mixtures – universal Florovit AGRO + SOR + urea. The urea should be added to the mixture in the form of earlier prepared solution with concentration of up to 5% volume of the solution. The lower recommended dosage of the crop protection chemical and Florovit AGRO concentration pursuant to the fertiliser application instruction should be used in the case of joint use of Florovit AGRO with SOR. No adhesive agents have to be added in the case of joint use of Florovit AGRO fertiliser with SOR. The grace period of the mixture is the same as in the case of using SOR alone.