Florovit autumn fertiliser for coniferous plants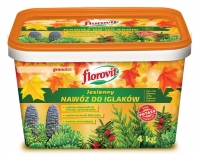 Fertiliser for sprinkled fertilisation of coniferous trees and shrubs in order to prepare them for the winter period. Properly selected nutrients included in the fertiliser support the lignification mechanisms and this protects conifers from freezing. Increased potassium and phosphorus content increases the resistance to frost and poses a positive influence on water economy in plants.
In case when the fertiliser has not been used in autumn, it should be used in early spring, just before the start of vegetation. This will improve the conditions enabling the growth and development of the plant in spring.
Method of application:
Apply between July and the end of September by sprinkling the fertiliser around trees and shrubs. Perform the fertilisation process twice, with a 4-6 week interval. Depending on the age and size of the plant, it is recommended to use 5 g (full teaspoon) of the fertiliser per each 1 metre height of the tree or shrub. When calculating the dose of the fertiliser for creeping plants, it is recommended to assume 5 g of the fertiliser per each 1 metre of the plant's diameter. The fertiliser should be applied on the surface corresponding to the diameter of the crown and when possible mixed with the soil carefully, as to avoid damaging the roots. Water the plants properly. In case of column-shaped forms the surface of the application should be twice bigger than the diameter of the crown. Regular watering increases the efficiency of fertilisation. 1 tablespoon contains about 15 g of the fertiliser.
Date of application

:
| | | | | | | | | | | | |
| --- | --- | --- | --- | --- | --- | --- | --- | --- | --- | --- | --- |
| I | II | III | IV | V | VI | VII | VIII | IX | X | XI | XII |
Composition of the fertiliser:
EC FERTILISER NPK (MgO + SO3) 4.5 - 8.0 - 27.0 (3.0 + 28.0) fertiliser with iron.
4.5% (N) total nitrogen; 4.5% (N) ammoniacal nitrogen; 8.0% (P2O5) phosphorus pentoxide soluble in a neutral ammonium citrate and water; 5.2% (P2O5) water-soluble phosphorus pentoxide; 27.0% (K2O) water-soluble potassium oxide; 3.0% (MgO) total magnesium oxide; 28.0% (SO3) total sulphur trioxide; 2.3% (Fe) total iron.
See the informative video:
Learn more about why is it worth fertilising in autumn >>
How to trim and fertilise conifer hedging in autumn?
https://www.youtube.com/watch?v=Hv4IaHaFyVs