Florovit fertiliser for rhododendrons, ericaceous plants and hydrangea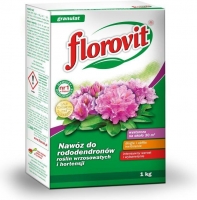 Florovit for rhododendrons is for sprinkled fertilisation of rhododendrons (rhododendrons and azalea), as well as ericaceous plants.
The composition of the fertilisation has been carefully selected to meet nutritional needs of all varieties of rhododendrons and ericaceous plants, hence it ensures balanced, healthy growth, abundant flowering and intense colours of flowers. High potassium content increases their resistance to freezing, as well as affects the overall appearance of plants.
Due to specially selected formulation, the fertiliser remains active throughout the whole period of vegetation, it results in maintaining beneficial pH level of soil and its low salinity.
Method of application:
Fertilisation begins in spring, when the plants begin to grow. When planting, it is recommended to apply about 40 g of the fertiliser per one plant. Mix the fertiliser with the substrate. During the following years the fertiliser is sprinkled under the crown of the plant, and then delicately mixed with the soil. It is also recommended to water plants. It is recommended to finish fertilisation by the 15th of August. Doses: the first years after planting – in April and in July apply 20 g/m2, all in all 40 g/year – the second year of cultivation in April and in July apply 25 g/m2, all in all 50 g/year – the following years of cultivation – in April and in July apply 30 g/m2 all in all 60g/year.

Hydrangea. When planting: single planting 30-40 g of the fertiliser for 1 plant, grouped planting 60-80 g of the fertiliser per 1m2. Following years of cultivation: in April and in July apply 40-80g/m2 all in all 80-160g/year, depending on the size of plants.
Date of application

:
| | | | | | | | | | | | |
| --- | --- | --- | --- | --- | --- | --- | --- | --- | --- | --- | --- |
| I | II | III | IV | V | VI | VII | VIII | IX | X | XI | XII |
Composition of the fertiliser:
EC FERTILISER NPK (MgO + SO3) 10.7 - 6.0 - 13.5 (4.0 + 40.0) fertiliser with boron, copper, iron, manganese, molybdenum and zinc.
10.7% (N) total nitrogen; 10.7% (N) ammoniacal nitrogen; 6.0% (P2O5) phosphorus pentoxide soluble in a neutral ammonium citrate and water; 3.9% (P2O5) water-soluble phosphorus pentoxide; 13.5% (K2O) water-soluble potassium oxide; 4.0% (MgO) total magnesium oxide; 40.0% (SO3) total sulphur trioxide; 0.08% (B) total boron; 0.1% (Cu) total copper; 0.14% (Fe) total iron; 0.75% (Mn) total manganese; 0.005% (Mo) total molybdenum; 0.1% (Zn) total zinc.
See informative videos:
Everything about cultivating rhododendrons
https://www.youtube.com/watch?v=FFf1mhn4W1Q
Caring for acidophilic plants
https://www.youtube.com/watch?v=rmjofJjRYF8
How to plant and cultivate hydrangea?