Florovit autumn fertiliser for lawns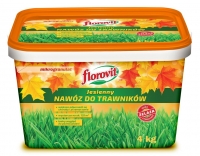 Intensely growing grass, mowed multiple times during the year, uptakes considerable amounts of nutrients from the soil. That is why, in order to have a lasting, dense turf along with beautiful greenness of the grass, it is crucial to ensure regular fertilisation of lawns, starting in the early spring and ending in autumn.
Florovit autumn fertiliser for lawns satisfies the nutritional needs of grass during the autumn period, as well as in the early spring and is designed for all grass varieties, especially for ornamental and representative lawns.
Low nitrogen content provided in autumn does not stimulate the intense growth of the grass, yet it prolongs the vegetation of plants and influences the good appearance of the lawn until late autumn. High potassium and iron content improves plants' resistance to disease and contributes to their better wintering.
Method of application:
It is recommended to use Florovit autumn fertiliser for lawns during autumn and in early spring.

Autumn: the fertiliser should be applied in the second half of August, and then once again at the end of September / the beginning of October in the dose reaching 30-40 g per 1m2. Sprinkle the fertiliser evenly on the surface of the lawn, preferably after mowing the grass. In case when no rain is expected in the next few hours following the fertilisation, the lawn should be thoroughly watered.

Spring: apply the fertiliser during early spring, before the start of grass vegetation, in the dose reaching 30-40 g per 1 m2. Do not use the fertiliser in strong sunlight or when the wind is strong. On average one tablespoon contains 15 g of the fertiliser.
High iron content prevents the growth of moss on lawns. The fertiliser is both effective and efficient, as well as easy to use.
Date of application

:
| | | | | | | | | | | | |
| --- | --- | --- | --- | --- | --- | --- | --- | --- | --- | --- | --- |
| I | II | III | IV | V | VI | VII | VIII | IX | X | XI | XII |
Composition of the fertiliser:
EC FERTILISER NPK (SO3) 4.4 - 5.2 - 19.0 (25.0) with iron.
4.4% (N) total nitrogen; 2.2% (N) nitrate nitrogen; 2.2% (N) ammoniacal nitrogen; 5.2% (P2O5) phosphorus pentoxide soluble in a neutral ammonium citrate and water; 3.4% (P2O5) water-soluble phosphorus pentoxide; 19.0% (K2O) water-soluble potassium oxide; 25.0% (SO3) total sulphur trioxide; 6.0% (Fe) total iron.
See the informative video: