Florovit acidifying fertiliser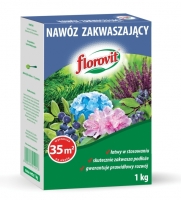 Florovit acidifying fertiliser effectively acidifies the substrate (lowers the pH) and at the same time ensures proper conditions for the growth of acidophilic plants. Using the fertiliser supports the uptake of nutrients present in soil by plants.
When using the acidifying fertiliser, you will ensure a proper growth and development of acidophilic plants.
Tips:
Apply the fertiliser on a surface corresponding to the diameter of a crown of a shrub,
Mixing the fertiliser with the soil / substrate improves the efficiency of the fertiliser,
Regular watering increases the efficiency of fertilising,
In order to obtain a low pH of the soil it is recommended to avoid using compost, manure and alkaline mineral fertilisers (nitro-chalk, lime saltpetre, nitromagnesite), which increase the pH of the soil.
Acidophilic plants include:
• azaleas
• blueberries
• conifers (such as: juniper, spruce, cypress, yew, Weymouth pine)
• cranberries
• heathers and ericas
• hydrangeas
• kalmias
• laburnums
• magnolias
• pieris
• raspberries and blackberries
• rhododendrons
• sedges
• wild pansies



Method of application:
Preparing the substrate: Recommended dose of 12 g/10 l of the substrate. Mix the fertiliser with the substrate.
Already growing plants: In form of top dressing – 15 g/m2. Use two times – before starting the vegetation and at the beginning of June. Mix the fertiliser with topsoil, avoid damaging the roots.
Watering – rhododendrons, azalea, blueberries – dilute 10 g of the fertiliser in 10 l of water, water every 3-4 weeks; conifers, heathers, hydrangeas – dilute 5-10 g of the fertiliser in 10 l of water, water once a month.
Composition of the fertiliser:
EC FERTILISER Type of fertiliser – Ammonium sulfate
20.8 % (N) ammoniacal nitrogen
See informative videos:
How to plant and care for hydrangeas?
https://www.youtube.com/watch?v=IdXW6wz4JBc
Caring for acidophilic plants
https://www.youtube.com/watch?v=rmjofJjRYF8
Everything on caring for rhododendrons