Florovit Vital Complex for flowering plants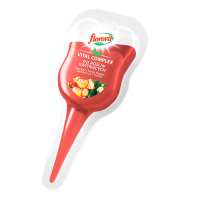 Florovit Vital Complex is a modern and ready-to-use preparation intended for exotic plants (e.g. citrus, bonsai, cactus). A specially developed complex of strengthening ingredients improves the vitality and condition of plants, supports the root system and supports their proper development. Regular use improves the condition of the substrate and positively affects the natural resistance of plants.
Supports the root system
Affects the intense colour of the leaves
Improves the vitality and condition of plants

Application: Break off the tip at the incision and place the applicator outlet in the ground so that the specimen flows freely. The emptying time depends on the quality and moisture of the substrate.

Florovit Vital Complex can be used all year round. Use once a month, 1 applicator for 1 plant. Remember to water the plants regularly.
See other Florovit Vital Complex applicators: